If you are a chair, we recommend you also read this article.
SPECIFIC INFORMATION FOR SPEAKERS
You should have receive an email with instructions that contains a Zoom link. If you have not received it, please write scientific@theunion.org immediately.
30 minutes before your session

ZOOM
Click on the Zoom link provided by email to join the Zoom room 20-30 minutes before your session starts.

A technician will arrive approximately 10 minutes before the session starts.

Make sure your audio and video work properly.

Only yourself, the other speakers and the chairs will be in the Zoom room.

The producer will let you know when the session starts live, if you have opened the conference platform, it important that you mute the sound. This can be done from the video screen where you are watching the session in the platform: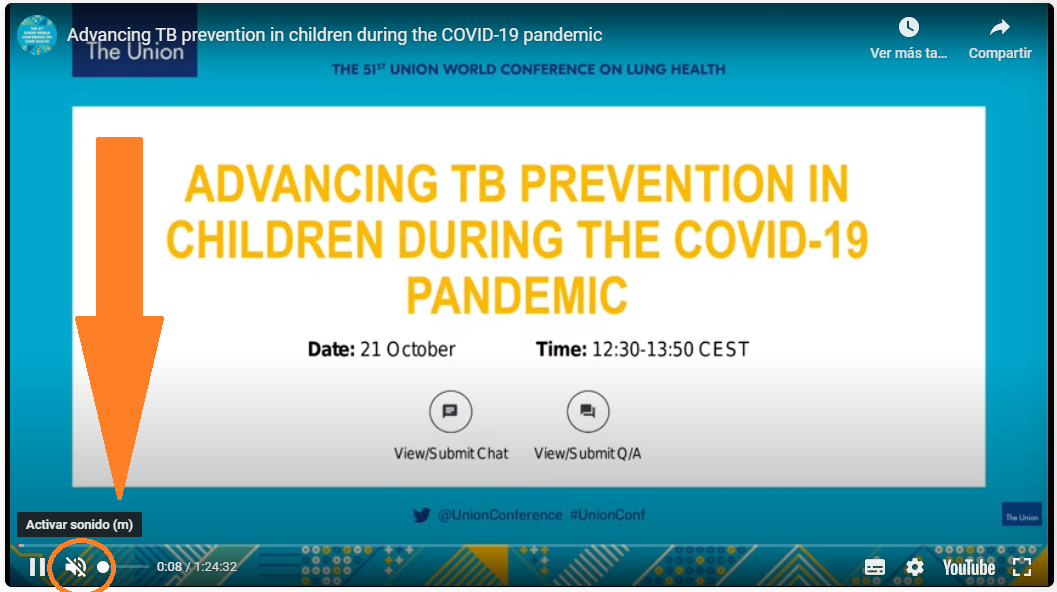 CONFERENCE PLATFORM
If you wish, you can also access your session via the conference platform ahead of time, using the login details provided after you registered. if you did not register, please
register immediately
. If you have issues to access the platform, please
contact the heldesk
.
You can write messages to the participants in the session chat if you wish to.
After the presentations have been broadcast, the chairs will ask you questions from the audience. Please make sure you give concise answers to allow for as many questions as possible to be asked.
We remind you that the conference helpdesk is now available and will guide you through the platform (welcome guide, how to interact with other delegates and exhibitors, etc.). If you experience problems logging in or have technical questions, please write to the helpdesk.

Please contact scientific@theunion.org if you have any questions.